And so it was, as Jesus sat at the table in the house, that behold, many tax collectors and sinners came and sat down with Him and His disciples. And when the Pharisees saw it, they said to His disciples, 'Why does your Teacher eat with tax collectors and sinners?' But when Jesus heard that, He said to them, 'Those who are well have no need of a physician, but those who are sick. But go and learn what this means: "I desire mercy and not sacrifice." For I did not come to call the righteous, but sinners to repentance.'" ~Matthew 9:10-13
What is mercy? Webster's dictionary defines mercy as "compassion, forbearance and forgiveness, shown especially to an offender whom it is within one's power to punish. A blessing that is an act of Divine favor or compassion." God spoke through His prophet Hosea and said, "For I desire mercy not sacrifice, And the knowledge of God more than burnt offerings." This is the heart of our Lord. The very nature and character of Christ is love! Everything that He did when He lived and ministered here on earth was motivated by love—love for the Father, and love and compassion for His children (we human beings).
God so loved the world that He gave His only begotten Son, that whoever believes in Him should not perish but have everlasting life. (John 3:16) Jesus did not come into this world to condemn, He came to save and bring light and life. Moved with compassion, He ministered to suffering and sick humanity with words of hope and help. With the exception of the religious and self righteous, rarely did Jesus point out and focus on the sin of others. He did not condemn! He offered a way out of darkness and bondage, into light and freedom from sin.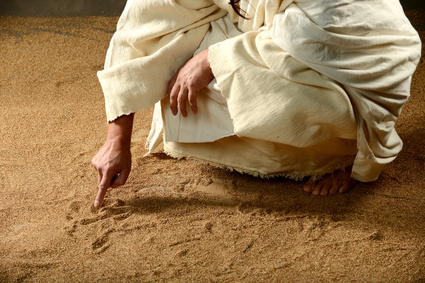 Then the scribes and Pharisees brought to Him a woman caught in adultery. When they had set her in the midst, they said to Him, "Teacher, this woman was caught in adultery, in the very act. Now Moses, in the law, commanded us that such should be stoned. But what do You say?" Jesus stooped down and wrote on the ground with His finger, as though He did not hear. So when they continued asking Him, He raised Himself up and said to them, "He who is without sin among you, let him throw a stone at her first." Again, He stooped down and wrote on the ground. Then those who heard it, being convicted by their conscience, went out one by one, beginning with the oldest even to the last. Jesus was left with only the woman standing in the midst. When Jesus raised himself up and saw only the woman, He said to her, "Where are those accusers of yours? Has no one condemned you?" She said, "No one, Lord." Jesus said to her, "Neither do I condemn you; go and sin no more." (John 8)
Throughout Jesus' ministry, we read in the Gospels beautiful stories of His love and compassion. The account of the woman at the well (John 4) is another powerful example of mercy in action! Jesus said to her, "Go call your husband and come here." The woman answered and said, "I have no husband." Jesus said to her, "You have well said, 'I have no husband,' for you have had five husbands, and the one whom you now have is not your husband; in that you spoke truly." No accusation, no condemnation from the Lord, just fact, truth and the offer of a better way to live!
He said, "Whoever drinks of the water that I shall give him will never thirst. But the water that I shall give him will become in him a fountain of water springing up into everlasting life." Because of the Lord's kindness and compassion "many of the Samaritans of that city believed in Him because of the word of the woman who testified." (John 4:39) So when the Samaritans had come to Him, they urged Him to stay with them; and He stayed there two days. And many more believed because of His own word, "for we have heard for ourselves and know that this is indeed the Christ, the Savior of the world." (John 4:42)
Love covers a multitude of sin and truth sets captives free! (I Peter 4:8) Jesus said, "Most assuredly, I say to you, whoever commits sin is a slave of sin. And a slave does not abide in the house forever, but a son abides forever. Therefore if the Son makes you free, you shall be free indeed." (John 8:34-36) The Lord came not only to give eternal life, but also to offer a relationship with The Living God! His great love and mercy provided a way of deliverance and adoption into the family of God. His shed blood is atonement for our sin and, "To as many as received Him, to them He gave the right to become children of God, even to those who believe in His name." (John 1:12)
There is a beautiful, old hymn written in the early 1800's that communicates the wonder of God's great love and mercy:
"What wondrous love is this, O my soul! What wondrous love is this, O my soul! What wondrous love is this, that caused the Lord of bliss to bear the dreadful curse for my soul? To God and to the Lamb, I will sing, I will sing. To God and to the Lamb, I will sing. To God and to the Lamb who is the Great I AM… While millions join the theme, I will sing!"
Love never fails. Remember when asked what is the greatest commandment, Jesus answered:
"You shall love the Lord your God with all your heart, with all your soul and with all your mind. This is the first and greatest commandment. And the second is like it: You shall love your neighbor as yourself. On these two commandments, hang all the Law and the Prophets." (Matthew 22:37-40)
Make a determination to follow our Lord's example and walk in His love and light. Mercy made a way for all of us to know the Blessed One, who is the King of the Universe!
(Photo credit: © Carlos Santa Maria – Fotolia.com.)