"Repay no one evil for evil. Have regard for good things in the sight of all men. If it is possible, as much as depends on you, live peaceably with all men. Do not be overcome by evil, but overcome evil with good." ~ Romans 12:17-18, 21
Ever feel like you've been run over by a Mack truck? All of us have had the experience of feeling "overcome." Prayer and perseverance bring peace.
There are times in our lives when we must make sacrifices. Change is not comfortable, or easy, but it is necessary to make the determination to let go. Whatever it may be, simply lay it all down—everything at His feet. Sometimes this can be our relationships, friends, family, our work dreams and aspirations. If we will lay them all at the feet of Jesus, search His word, seek His will and follow His way, we will find ourselves negotiating change.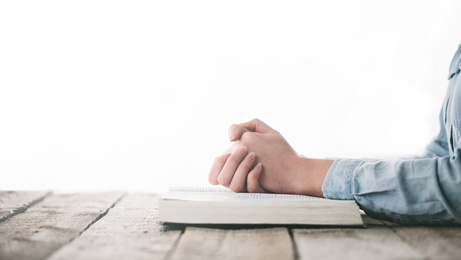 Initially this change may feel painful and it can be lonely, but only temporarily. There are seasons in our lives when for a time we must remove distractions, and be quiet and still in our hearts in order to hear the voice of our Shepherd. We will hear His voice if we listen for it. His answers will come through prayer and His word. By His grace and mercy, rest and peace are promised, and we will come to know that He is God. (Psalm 46:10)
Jesus said, "I have told you all this, so that you may have peace in Me. Here on earth you will have many trials and sorrows. But take heart, because I have overcome the world." (John 16:33)
Webster defines perseverance as "purpose and a course of action; especially in spite of difficulties, obstacles, and discouragement." The Apostle Paul encouraged believers in Rome with beautiful timeless words that lift our spirits still today:
Therefore, having been justified by faith, we have peace with God through our Lord Jesus Christ, through whom also we have access by faith into this grace in which we stand, and rejoice in hope of the glory of God. And not only that, but we also glory in tribulations, knowing that tribulation produces perseverance; and perseverance, character; and character, hope. Now hope does not disappoint, because the love of God has been poured out in our hearts by the Holy Spirit who was given to us." ~ Romans 5:1-5
Hope does not disappoint! Our hope is in the Lord and we take heart in the reality of His great love. The Holy Spirit gives us courage, and in the face of deep distress and sorrow, He is our help and strength. "Have courage and be kind" isn't just a sweet saying; it is excellent advice and completely possible with the help of our Lord! With God's presence and truth at work in our hearts, we will overcome and find His peace.
"Be strong, and let your heart take courage all you who hope in The Lord." ~ Psalm 31:24.

"Now may the God of hope fill you with all joy and peace as you believe in Him, so that you may overflow with hope by the power of the Holy Spirit." ~ Romans 15:13
There is peace in His presence.
(Photo credit: ©4Max – Fotolia.com.)