For too many in our world, this past year has been one of great disturbance and epoch-making upheaval. Cataclysmic events have led to incomprehensible sorrow. We have experienced happenings around the world that have tested our credulity and sorely tried our faith.
2020 was so intense, we find ourselves asking "What will 2021 bring?" Our prayer is, what will we give to this New Year?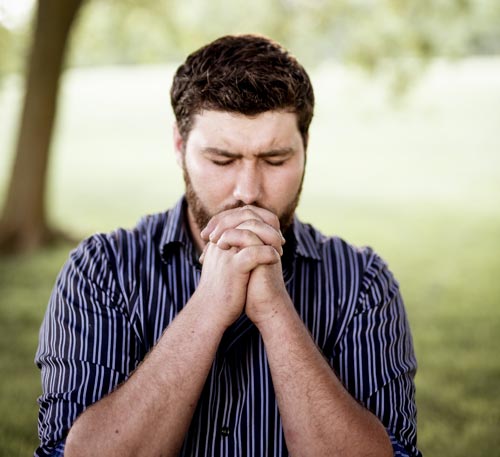 With God's help—through prayer and a determination not to "grow weary in well doing"—we can bring a positive influence for good to our world by giving and sharing our faith. (Galatians 6:9) Every child of God can spread hope and share a legacy of faith that will heal.
What is faith? Faith is complete trust and confidence in our God. What is a legacy? "Anything handed down from the present and past, as a gift." In this New Year we can give the gift of faith, hope and love.
How can we be light in the world? Shine! One small candle dispels even the darkest room. Edith Wharton said, "There are two ways of spreading light: to be the candle or the mirror that reflects it."
What we require is tenacious faith and determined effort. We need the kind of indefatigable faith and courage that the early church demonstrated. The apostle Paul encouraged believers with these words, "Therefore do not cast from you your confident hope, for it will receive a vast reward." (Hebrews 10:35)
We must not lose hope! John was a pillar of strength to the church in Jerusalem. Later in life John wrote beautiful encouraging epistles to the Seven Churches of Asia Minor. His words are timeless. Believers today can take them to heart and receive renewed hope and purpose. For this is the love of God, that we keep His commandments. And His commandments are not burdensome. "For whatever is born of God overcomes the world: and this is the victory that overcomes the world, even our faith." (I John 5:4)
This is the victory that has overcome the world, even our faith! Thank God relationship brings revelation. We read so many stories in scripture that tell us how God's revelation and intervention changed circumstances. Daniel and his companions are a powerful example of this. Daniel purposed in his heart to serve the God of Israel. He was submitted to God's word and His will. Daniel prayed, walked in humility, and remained faithful even under extreme circumstances. He said this of His God: "Blessed be the name of God forever and ever… He reveals deep and secret things; He knows what is in the darkness, And light dwells with Him." (Daniel 2:22)
Daniel had a great name: God is my judge. A name in the Bible many times is a description of the person, or of what God would do through an individual. Daniel's friends had good names, too! Hananiah means: grace, mercy and gift of the Lord. Mishael is: who is like God! Azariah means: Yaweh has helped! What's in a name? Plenty! God knew what Daniel and his three Hebrew friends would face. He gave them good names, and He gives a good name to us, also.
A quote from Max Lucado that I appreciate: "God loves us as we are but His love won't leave us as we are. He is changing us everyday." So true! If we will allow Him, God wants to change us into His image. (2 Corinthians 3:18)
We know His name, and thankfully, He knows ours. David wrote a Psalm of praise saying, "The Lord also will be a refuge for the oppressed, A refuge in times of trouble. And those who know Your name will put their trust in You; For You, Lord, have not forsaken those who seek You." (Psalm 9:9,10)
The Word tells us He takes pleasure in those who respect Him, in those who hope in His mercy and trust in His unfailing love. (Psalm 147:11) God has made this promise to those who are called by His name. He said, He will hear from heaven, and heal our land. (2 Chronicles 7:14)
In the coming months, we will have many opportunities to pray and do good. Let's make the most of them! This year give a legacy of love, encourage hope and share faith. Remember, if we know Him, our names are written in the book of life. Where do we go from here? The best is yet to come! "He who has an ear, let him hear what the Spirit says to the churches. He who overcomes, I will make him a pillar in the temple of My God, and he shall go out no more. And I will write on him the name of My God and the name of the city of My God, the New Jerusalem, which comes down out of heaven from My God. And I will write on him My new name." (Revelation 3:12)