Life changes like the seasons. We contemplate the passage of time as summer turns to autumn. Our hearts and minds remember the past months and mark the visible changes. We look forward to the new, and something within us longs to cultivate truth. As seasons change, it is not unusual to become introspective. Autumn is a lovely season for soul searching….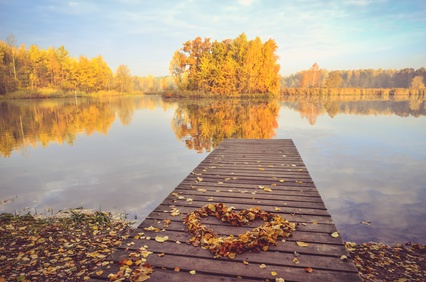 Does love really matter? Jesus said, "If you love me, keep my commandments." In other words, obey what our Lord has said. He talked much about love. He lived it and, ultimately, gave His life for it.
The entire New Testament is full of dialogue concerning love. From the Gospel of Matthew to the Book of Revelation, we read stories of forgiveness, redemption and love. We see examples of how we as children of God are to respond to one another and to unbelievers. Matthew 18:21-35 is a parable Jesus told about the servant who was shown mercy, yet when he had the opportunity to do the same, that servant who was forgiven, refused and was unmerciful. This story is a powerful reminder that we would benefit from remembering!
Love is the hallmark of our faith! Webster defines hallmark as "an official mark or stamp indicating a standard of purity, used in marking gold and silver articles assayed by the Goldsmiths." Love identifies us as followers of Christ. Indeed, the disciple John wrote, "If anyone says, 'I love God,' and hates his brother, he is a liar, for he who does not love his brother whom he has seen cannot love God whom he has not seen." (I John 4:20)
Like the lyric of the song says, "What the world needs now, is love sweet love. It's the only thing that there's just too little of." It doesn't have to be that way! Martin Luther King Jr. is renown for a statement that he emphasized at every opportunity: "I have decided to stick with love. Hate is too great a burden to bear."
Hate destroys and indifference is nearly as destructive. Love and only love, heals and repairs. Jesus said that everything, the entire truth of scripture and all the law and prophets, revolve around these two things. "You shall love the Lord your God with all your heart, with all your soul, and with all your mind. This is the first and great commandment. And the second is like it: You shall love your neighbor as yourself. On these two commandments hang all the Law and the Prophets." (Matthew 22:37-40)
Yes, love really does matter! As we move into this new season, my prayer is, Lord, teach us to love.
Find hope in His promise: "Peace I leave with you. My peace I give to you. It is not as the world gives that I give to you. Do not let your heart be troubled, and do not let it be afraid." (John 14:27)
Love paid the price for our peace—a peace that passes all understanding. And love's promise is everlasting life! May we endeavor to follow the example of our Lord and walk in His love, a love that heals forgives and restores—a love that never fails!
(Photo credit: © magmac83 – Fotolia.com.)