Seasons are fundamental to how we understand climate and our environment. There are differences of opinion concerning the start of autumn. "In meteorological  terms autumn begins September 1st, as each season is defined in a three month period." Astronomers have another perspective based on the date of the seasons of celestial events, placing the official start of autumn on September 22. There is a third definition of the beginning of autumn which comes from Phenology. The National Wildlife Federation describes Phenology as "the study of periodic plant and animal life cycles. These are the changes in the natural world, such as the turning of the trees and the ripening of autumn fruits."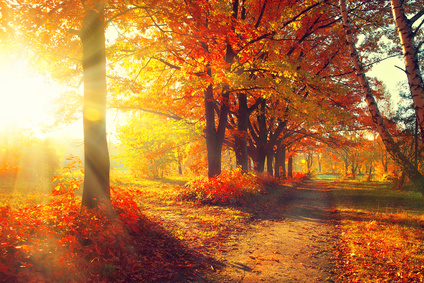 When September comes and the apples ripen, leaves begin to change color, the sun sets sooner and the air is cooler, I feel autumn in the atmosphere and welcome the change of season. Our lives are constantly changing. We experience different seasons emotionally, physically and spiritually. Change can be sudden and dramatic, or come gradually with time. One thing is for certain: change will come! It may come as a welcome respite from the demanding cares of life or an unexpected challenge.
Most of us are familiar with the saying, "When it rains, it pours!"  Difficult situations can follow one another in rapid succession. "Yet man is born to trouble as sure as sparks fly upward." (Job 5:7) Thankfully there is a remedy for troubling thoughts and circumstances. Practicing the presence of God through prayer, reading the word and worship change our thoughts. Though our circumstance may not change, our perspective and our hearts can be altered. In the realm of the spirit—where our mind, our will and our emotions function—prayer and the presence of the Lord alter everything!
We are influenced by what we practice daily. As a result of that, we need to change our thoughts and practice developing a pattern of thinking and behavior that is beneficial. Martin Luther King, Jr. said, "Rarely do we find men who willingly engage in hard, solid thinking. There is an almost universal quest for easy answers and half baked solutions. Nothing pains some people more than having to think." Again, the first step in positively adjusting to change—with the ability to overcome challenges and introduce solutions—is to change the way we think. What we believe is very powerful; it influences our thoughts and ultimately our actions.
As believers of God and followers of Christ, what we think and say will affect how we live. To live life victoriously and overcome the challenges of change, we must acknowledge the Sovereignty of God in our lives and be willing to surrender to His Lordship. (Philippians 4:13) Worship is essential, as is prayer. Connecting with God on a daily basis, trusting in His word and allowing the Holy Spirit to teach us and guide our thinking are paramount when adjusting to change. There are days when my heart is troubled and just being in the Lord's presence, meditating on His love and faithfulness, singing songs of worship and sometimes being still before Him fills my heart with peace, strength and courage. In the middle of change, even upheaval and turmoil, Christ is constant and His presence brings stability, peace and confidence.
The steadfast love of the Lord never ceases, His mercies never come to an end, they are new every morning; great is Your faithfulness. (Lamentations 3:22-23) It is  wonderful to realize that the love of God never alters. He has pledged His eternal love and faithfulness forever. "Therefore know that the Lord your God, He is God, the faithful God who keeps covenant and mercy for a thousand generations with those who love Him and keep His commandments." (Deuteronomy 7:9)
Practicing His presence and allowing His thoughts to influence ours is healing and liberating. "For I know the thoughts that I think toward you, says the Lord, thoughts of peace and not of evil, to give you a future and a hope." (Jeremiah 29:11) Change is inevitable, but how we respond to the changing seasons of our lives is our decision and our choice. Dr. Lester Sumrall, our papa, used to say, "You make your decisions and your decisions make you." I pray we choose wisely and learn to listen to the guidance and the instruction found in scripture. The counsel of the Lord is the best way to overcome; it will give us wisdom, direction, strength, peace and courage for our journey through life.
Finally, brethren, whatever things are true, whatever things are noble, whatever things are just, whatever things are pure, whatever things are lovely, whatever things are of good report, if there is any virtue and if there is anything praiseworthy—meditate on these things. The things which you learned and received and heard and saw in me, these do, and the God of peace will be with you. (Philippians 4:8-9)
Walk into the changing seasons of life with hope and renewed strength and confidence. "Faithful is He that calls you, who also will do it." (I Thessalonians 5:24)
(Photo credit: © Subbotina Anna – Fotolia.com.)